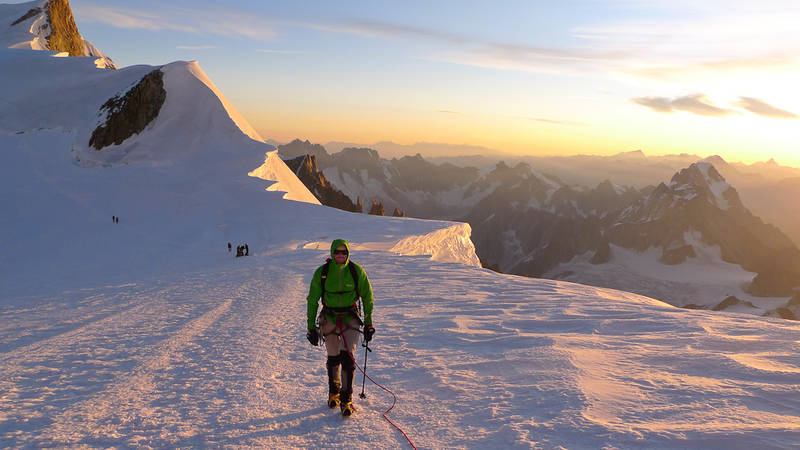 FINAL MONT BLANC SUMMIT OF THE SEASON
Detail of a mont blanc ascent at the end of the season in September
By Dylan Taylor
September 11, 2014 10:00
Doug S and I summitted Mont Blanc at 9:30 this morning.
We had an enjoyable and fairly non-eventful ascent from the Refuge des Cosmiques. We began at 5:00 this morning and made good time up and down. The route up the Tacul and Mont Maudit was in excellent shape, aside from the occasional over-steepend sugary snow-runnel.
In order to burn as many calories as possible and make the beer today taste even better, yesterday we climbed the Contamine-Grisson route on the left side of the Triangle du Tacul. I was surprised at the volume of traffic on the route (about four parties ahead of us). So part way up the route, we swung out left, and climbed some fun, harder mixed terrain. We were "intentionally off-route". It was excellent. The climbing was on ribbons of firm ice and neve cutting through bands of solid alpine granite. It's a great way to feel "rad" without having to stick your neck out too far. We descended from the summit of the Tacul fairly early in the afternoon, found our bunks in the Cosmiques hut, and caught some good afternoon zzzzz's.
With our summit of Mont Blanc, we have finished five days of climbing together, summitting a peak each day. The fatigue has built up and now Doug is eager to board a train for Munich, Germany, where he will savor the hoppy taste of victory during Octoberfest.
That concludes my alpine guiding season in the French and Swiss alps for this season. I soon depart for Cortina, in the Dolomites, for one final week of alpine rock guiding before a quick vacation to Kalymnos, Greece! By the end of October, I'll be in McMurdo Station, working as a field mountaineer for a group of 5 paleontologists – most of whom hail from Sweden. Stay tuned...
Please Feel Free To Share:
Dylan Taylor is an AMGA certified, IFMGA licensed mountain guide, feild guide and photographer.
Phone: 00 33 6 78 32 13 84
Email:
dylan@thealpineeffect.com
Latest Posts
September 11, 2014 10:00
---
March 01, 2014 11:00
---
February 06, 2014 17:08
---