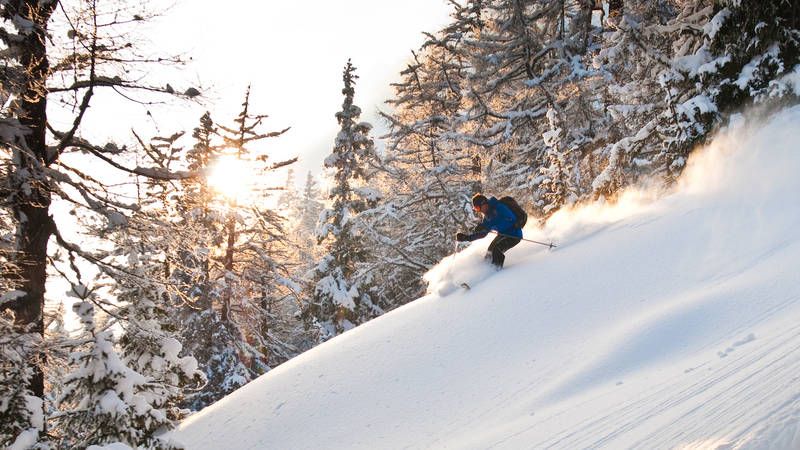 COL DE BEL OISEAU AND COL DE FENESTRAL
ski tour
By Dylan Taylor
February 06, 2014 17:08
Adam George, Mike Bromberg, and I drove up to Finhaut, Switzerland on a guide's day off. Our goal was to do about 2000m of touring. I was just getting over the flu, so I hardly took the camera out of the bag - especially on the uphill battles. Adam has been training for the Patroulle des Glaciers - the Zermatt-to-Verbier mother of all ski-rando races. There was no way I was going to try and keep up.
Without incedent, we arrived at the Col de Bel Oiseau at 2553 meters, and enjoyed a nice 600 meter powder descent back into the Bessons drainage. We then skied up and over the Col de Fenestral, which was ruined by a nasty sun-crust and a lot of ugly tracks. We descended a contrived and overly steep entrance couloir into the Comba Rossa drainage but this could have been easily avoided by just climbing to the tip-top summit of the Dent de Fenestral and descending the North East face. Once past the crusty, 45-50° entrance gulley, we enjoyed good powder pretty much all the way to Finhaut. Of course there was some pesky bushwhacking at the bottom, but it was all in good fun.
Please Feel Free To Share:
Dylan Taylor is an AMGA certified, IFMGA licensed mountain guide, feild guide and photographer.
Phone: 00 33 6 78 32 13 84
Email:
dylan@thealpineeffect.com
Latest Posts
September 11, 2014 10:00
---
March 01, 2014 11:00
---
February 06, 2014 17:08
---