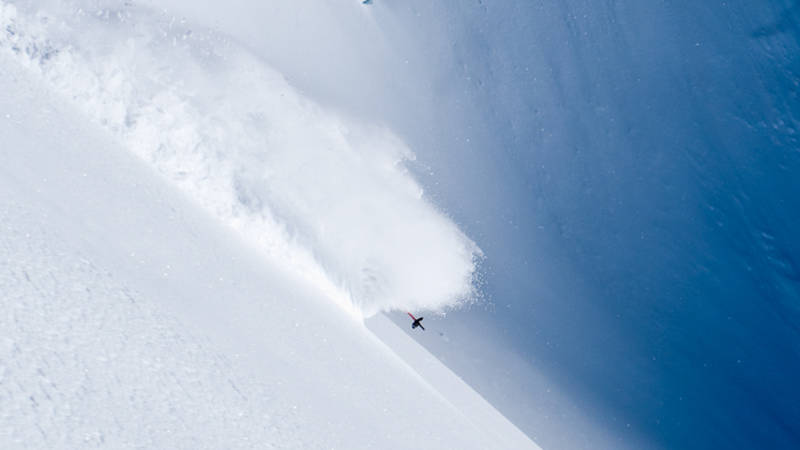 CHAMONIX POWDER! GRAND ENVERS AND COSMIQUES COULOIR
Midi powder day
By Dylan Taylor
January 27, 2014 17:11
I don't have the best record of skiing powder in Chamonix. In the past few seasons, a prevailing dry climate has robbed the alps of good powder skiing during month-long spells - usually the times I am actually here. In late 2011, storm after storm slammed into the alps, mantling the range in a snow pack ranging from 150-180% of normal. While that was happening I was sipping Mai Thai's on the beach in Thailand. An early 2012 storm came in hard, and went out with a sudden heat pulse - driving the rain line up to 2200 meters. Slush anyone?
What the hell was going on?
Finally cold temps and sunshine followed a decent dump. Ben Mitchell, David Rosenbarger and I somehow made it onto first bin of the Aiguille du Midi - despite Ben's jet lag and my procrastination. A million tiny ants exited the top bin, walked out of the ice tunnel, and clogged their way down the fixed lines in their earnest efforts to claim glory and first tracks in the Vallee Blanche. Ben, David and I stayed high, skied out the Midi-Plan ridge, and looked down the first 40°+ rollover to the Grand Envers. No tracks, and full of powder...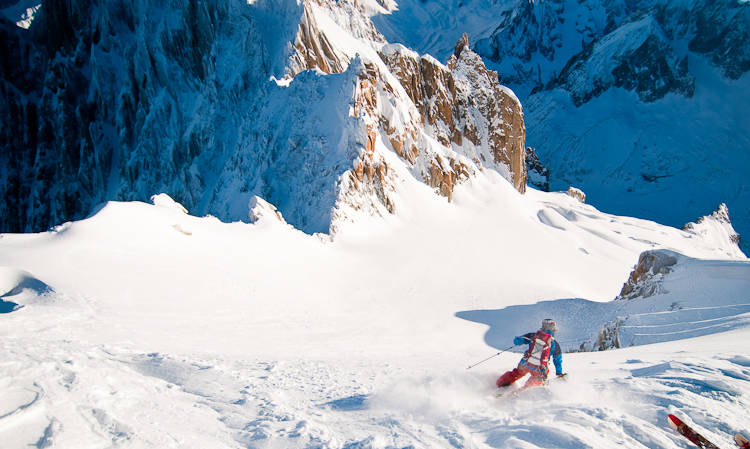 We skied untracked powder to the traverse above the the Requin hut, then shared the exit couloirs with three others. We double-polled down the Mer de Glace to the Buvet, booted up, and skied James Bond-style to the bottom. I was ready to throw my BD Zealots in the garbage - they can't handle variable weird snow at all.
We rushed over to the Midi, thinking we could get another decent shot (albeit tracked up heavily). Fellow guide Miles Smart sent me a text: "Cosmiques - 1st tracks... Unreal..." followed immediately by "...no tracks behind us". Our minds were changed. In my previous experiences, skiing the Couloir de Cosmiques was fun, but always in a bittersweet way when one must ski laboriously down firm, tracked-out chalky "cooler" snow.
We arrived at the top of the Midi, wove delicately through crowds down the ridge, dove down to the plateau, and side-stepped quickly up to the heavily rimed Cosmiques entrance. It was a beautiful landscape this morning.
David and Ben arced wide, gracefull, GS turns down a swath of untracked snow on skiers' right. I did my best to follow with my weak Thailand sport-climbing legs. The snow was powder all the way. We skied the Glacier des Bossons to the Mont Blanc tunnel, then I went home, ate lunch, and stretched the lactic acid out of my legs from just two ski runs (but 18,000 vertical feet).
Please Feel Free To Share:
Dylan Taylor is an AMGA certified, IFMGA licensed mountain guide, feild guide and photographer.
Phone: 00 33 6 78 32 13 84
Email:
dylan@thealpineeffect.com
Latest Posts
September 11, 2014 10:00
---
March 01, 2014 11:00
---
February 06, 2014 17:08
---